One Accounting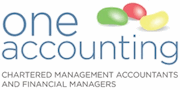 no user reviews (
add your opinion
)
Drumsheugh Toll
2 Belford Road
Edinburgh
Scotland
EH4 3BL
Phone: 0131 220 0152
Business Accountancy
Compliance Accountancy
Management Accounts
Contractor Tax
Business Strategy
Online Accounting
One Accounting is a firm of Chartered Management Accountants. We are based in Edinburgh and provide accounting, finance and strategy services to growing businesses, contractors and private individuals. We're not your typical accounting firm. We provide all of the services you need from your accountant (annual accounts, tax, VAT, etc) but we also like to work with you on a deeper level and look behind the numbers to give you a comprehensive view of your current business and help you set a long-term course. We like to think of ourselves as more of a virtual finance department than a once-a-year tax calculator. And we're experts at what we do! We are registered Members in Practice of the Chartered Institute of Management Accountants and the Peak Performance Accountants network.
Accountants in Edinburgh
,
Belford Road in Edinburgh
No user reviews yet
---
Accountants in Edinburgh Scotland
If you know of another accountant or bookeeper in Edinburgh or in surrounding , or corrections to the contact details (postal address, telephone number, fax number, website address, etc.) of any accountant or bookeeper we currently list, then please let us know. Also, if you own or run a Edinburgh accountant or bookeeper and would like to link to our site then please see our linking instructions.